Grace Garden hosts its largest workshop to date, the 2013 Sustainable Living Workshop, for 21 students from Wide Horizons (WH) post-secondary school and 34 students from local Noh Bo Teacher Training College (TTC). Both lecture and practical instruction, as well as lunch, was conducted on the Grace Garden site using the new Learning Center building built by local non-profit, Gyaw Gyaw. Instructors from BGET, Gyaw Gyaw, and SunSawang provided training on sustainable agriculture, renewable energy, and natural buildings, as well as on special topics including social entrepreneurship and water filtration. Naw Wahnaymoo Kay, a student from Wide Horizons, writes about the experience:
On October 14th to 18th 2013, we WH students including two teachers had a great opportunity to attend Sustainable Living training at Grace Garden in Noh Bo arranged by Border Green Energy Team (BGET). Noh Bo is a small Karen village which is located near the Thai-Burma border surrounding by the mountains and close to the bank of the Moei River. It was the first time we got a chance to go outside of Mae Sot. It was a very exciting trip and all of us were full of happiness. BGET welcomed us and provided a place to stay and food for us.
On the first day, when we arrived we stayed in Blessed Home boarding house. The same day at night we had games, activities and fellowship with BGET staff. The training was set in the Grace Garden belonging to BGET. The training took three and half days and three organizations BGET, G'Yaw G'Yaw and SunSawang participated in giving the training to us. The training was about sustainability, sustainable agriculture, renewable energy, entrepreneurship and adobe natural buildings. The goals of the training were how to live sustainably, how to convince our community that sustainability is important. The training was divided into both theory and practice.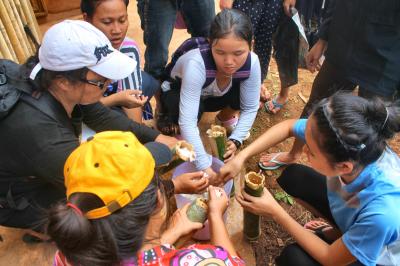 The first day, we started to learn about sustainability and sustainable agriculture. We learned how to make natural soil enhancement, compost, bio-char, and effective microorganism (EM). In the afternoon we practiced all these. The second day, we learned about renewable energy and how to use micro-hydro and solar energy. The third day, we learned about entrepreneurship. After that we had group presentations about social entrepreneurship and how to make projects beneficial to community. The last day, we learned about adobe buildings and after that we applied how to make the adobe. We were not the only participants. Teacher Training College (TTC) students attended the training with us for two days.
When we stayed in Noh Bo village, we had time to make strong relationships with the orphanage children and TTC students. The children were incredibly polite and friendly. We made friendship with them by playing games, singing songs and doing activities together. TTC is focusing on teaching skills and management skills. That was a great opportunity for all of us to build our relationship between WH and TTC and also including BGET staff there.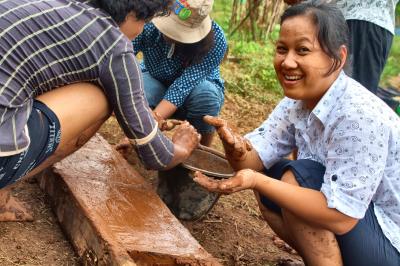 The Noh Bo trip brought us a lot of brilliant experiences and practical knowledge about sustainable living. This training is very useful for our community in the future. The training information that we got, we would like to share and apply it to our community because it is helpful for our community to know about the sustainable living and sustainable agriculture. Everything that we learned from BGET not book knowledge.  
One of our friends said "It was a wonderful trip and I would like to visit there again. I enjoyed swimming in Moei River and having exchange with TTC students." In conclusion, we would like to say thanks to BGET, G'Yaw G'Yaw, SunSawang, TTC, and the orphanage children. It was a meaningful trip for all of us and we gained a lot of practical knowledge and experiences.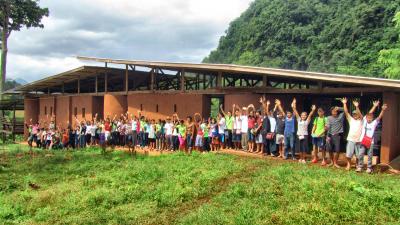 A total of 65 students participated in the 2013 Sustainable Living Workshop.