Nate Reents from Aqueous Solutions lead a water filter workshop at Grace Garden April 22nd through 25th. The sixteen Karen participants hailed from various organizations along the border region.  Over the course of the workshop, three water filter systems and two gasifiers for making the specialized charcoal were constructed.  Two water filter systems and one gasifier were given to participating organizations and the remaining water filter system and gasifier are now installed at Grace Garden to the delight of all living and working on the land.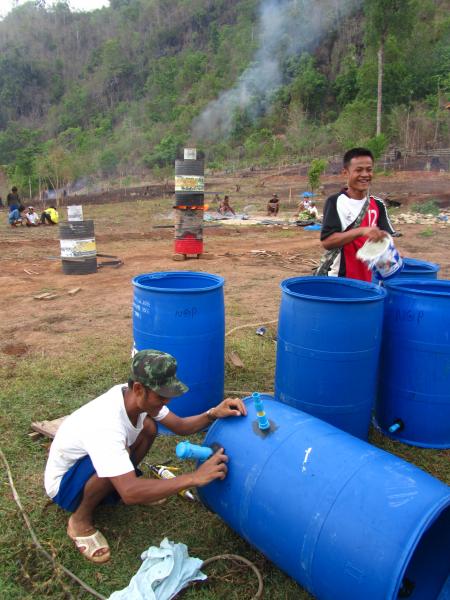 The Aqueous Solutions water filtration system was perfected over years of trial and error. The current system involves four plastic drum barrels in series. The first tank, a gravel filter, removes the solid particles suspended in the water. The second tank, a sand filter topped with a layer of helpful microorganisms, succeeds in trapping or eliminating harmful disease causing pathogens. The third tank, a charcoal filter, adsorbs chemicals such as those from fertilizers, pesticides, herbicides, etc, that may have contaminated the water. The fourth and final tank serves as a storage tank.  The whole system can filter about 300 liters per day of particle free, pathogen free, chemical free drinking water! You can learn more about the system from this white paper published by Aqueous Solutions or by checking out their website at http://www.aqsolutions.org/.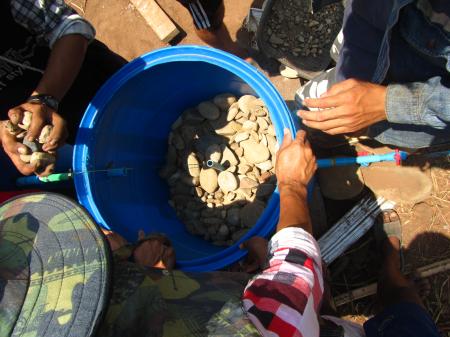 Grace Garden was thrilled to play a role in this workshop. The participants were a pleasure to teach as they were deeply engaged in the material as evident from their eager questions and quality workmanship. We wish the participants all the best as they implement their new systems in their home villages and spread their new knowledge.  Thank you, Aqueous Solutions, for the wonderful instruction and UNESCO for supporting the workshop!