It has been a busy few weeks for the Grace Garden. The rains are getting noticeably heavier and more constant, and while they make for soggy work, they will help things grow faster and are a welcome alternative to the stiflingly hot sun.
One of our first priorities was finishing the top swale. After spending hours trying to realign one section of it in order to be on contour, we finally deemed it fit for phase 2: planting of the vetiver grass that we obtained from the King's Project. There are now several rows of vetiver grass lining the top swale. We still have plenty of vetiver grass left, though, and we hope to get it planted out onto the second swale before it starts to get moldy.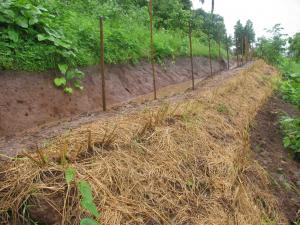 We also plotted out the second swale, making our way through the land with a homemade water level (props to Jodi). This task proved much easier when Jobson came along to bushwhack and clear the way ahead of us, so we were grateful for his help on day 2 of this process. Along the way, we discovered some amazing insects, including a vibrantly colored green and pink grasshopper with lines of tiny spikes on its legs. The bugs here in Noh Bo never cease to amaze me.
In other news, the flemingia seeds that I planted in the nursery when I first arrived have sprouted and are looking healthy, so we transferred about 80 of them (so far) to bags in a bit of our homemade potting mixture so that they can continue to grow outside of the germination bed. The potting mixture, which includes top soil, sand, burnt rice husks, compost, and coconut fiber, is rather labor-intensive to make, so we are considering switching to pre-made potting mix in the future, since there are hundreds of seedlings left in the germination bed, and we'd like to get them planted out as soon as possible.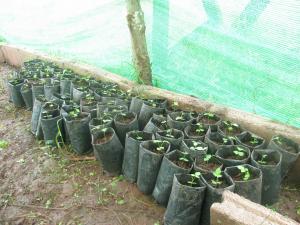 This post was written by Alena.