A little over one week ago, I moved to Mae Sot to volunteer with BGET for three months.  Already, I've had the chance to help with a bio-gas workshop in the Mae La refugee camp and pilot an energy, water and sanitation needs assessment survey for migrants schools, which educate the children of Burmese refugees.
Bio-gas workshop in Mae La refugee camp
I don't know what I was expecting in a Thai refugee camp, but it certainly wasn't Mae La.  Walking through the lush forest path on our way to the engineering school, I glanced up to discover dramatic vertical cliffs.  Thatch-roofed houses perched on stilts were nestled into the beautiful countryside.  Our walk was serenaded by happy kids in school. It felt as though every building we passed was a school!
At the engineering school, a class full of ~50 students (including 15 girls) eagerly awaited our arrival.  I was surprised (and excited) when Salinee started off the lesson in English.  Em, Thai and Santi then took it away in Karen, keeping the students engaged with their drawings on the board and jokes about the needed pig waste.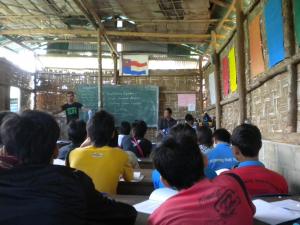 After a delicious Burmese lunch, we started construction (well, the others did…Visrin, another volunteer, and I designated ourselves photographers.)  With the help of Em, Santi and Thai, the students built 2 bio-gas collection devices. The students were each given a plastic bag to fill with pig waste as homework.  We returned the next day for installation, mostly hours of mixing pig poop with water and pouring into the tanks.  The tanks were installed next to the kitchen so that the gas can be used for cooking.
Talking to the students, I was surprised to discover that most of the refugees had only been in the camp a few years.  Sawlerwah, 21, walked here from his village in Burma. It took 3 days. When I asked if it was hard, he asked me, "You know land mines?" I said yes, they were terrifying.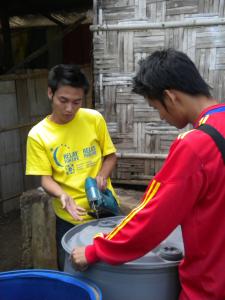 While many of the students have not been able to get official status as a refugee, they do have facebook accounts and are active facebookers. I have many new friends!
Migrant School needs assessment project
There are about 60 migrant schools in the area that educate the children of Burmese refugees.  BGET has already worked in a few, installing solar panels and a UV water filtration system.  Now Visrin and I are working on a needs assessment survey to determine which other migrant schools need our help.
While Salinee, Santi, and Thai went off to search for an elusive water source, Em and I began our migrant school needs assessment project.  First we visited Ray Kaw Htoo school and interviewed one of the teachers.  We discovered that the school is connected to the grid to power their five lights. They spent about 1600 baht on electricity last month and are trying to cut down to 1000 this month.  The drinking water source for the school is the piped water connection as well as purchased bottled water.  Next we visited the school Rocky Mountain 2, a much bigger school.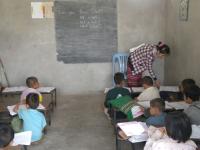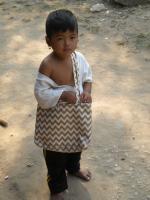 After a quick (and spicy!) lunch by the border, we met with the directors of Burmese Migrant Workers' Education Committee (www.bmwec.org).  This organization works to find funding for the migrant schools as well as provide teacher training and curriculum support.  They told us that many of the schools need help with water treatment, so providing UV water filtration systems could be very beneficial.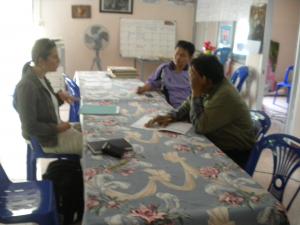 This post is written by Annalise Blum.