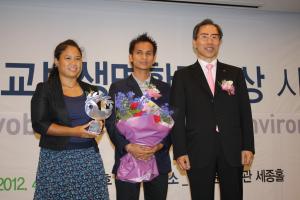 Orginal article is retreived from http://www.hani.co.kr/arti/society/environment/529429.html
Translated by Sejin Yang (2009 BGET's Volunteer)
A Thai organization, 'Border Green Energy Team (BGET)' was awarded the Kyobo Life Award for Environment for International Division and was invited to the award ceremony in Seoul. BGET supplies renewable energy technology to Karen villages in Myanmar (Burma) and refugee camps along the Thai-Myanmar (Burma) border.
Salinee Tavaranan, the director of BGET, said, "Despite recent improvements of democracy in Burma, it is too early to say if Burma is changing. The BGET team still crosses the border to Burma to install solar power systems taking life threatening risks."
The Karen people have been fighting against the military regime of Myanmar for over 60 years. Though KNU signed a ceasefire agreement with the government of Myanmar in January this year, the military tension has not been reduced yet. The Karen in Myanmar are still living in darkness with no access to electricity as well as education and medical service. They use firewood for cooking and only few of them use candles for lighting.
The most urgent electricity demand is associated with better lighting for medical clinics. It is difficult to perform emergency operations at night where there is no light. Tavaranan said, "BGET installed solar power systems for 60 Karen medical clinics. The electricity is used to power vaccine refrigerators and microscopes for malaria diagnosis as well as surgical equipments." It costs 1,300 USD (1.48million KRW) to install a 120W solar panel and 3 solar panels are needed to power a vaccine refrigeration unit.
Since the Karen communities are forced to flee the military attacks due to the ongoing civil war, the solar power systems for their mobile clinics are designed to be easily assembled and disassembled. Tavaranan said, "BGET staffs sometimes walk for 2 days in the jungle to install solar power systems inside Burma. Once the systems are installed, BGET provides the technicians with annual follow-up training for maintenance and operation near the border."
BGET has installed about 10-15 solar power systems a year so far and provided renewable energy technologies and training in 7 Karen refugee camps along the Thai-Burma border. While studying Solar Engineering in the USA, Tavaranan went back to her home country, Thailand, in September 2005 to join the projects of BGET. Tavaranan said, "I couldn't stop working, knowing how many people could get benefits from the projects."
The Kyobo Life Award for Environment is the most prestigious award for environmental issues in Korea. In its 14th year of the award, The Kyobo Foundation of Education and Culture created the international division of the award and awarded Border Green Energy Team(BGET) a 50,000,000 KRW grant and a plaque this year.
Jong-Young Nam fandg@hani.co.kr (22 April 2012 Hankyoreh)