A Thai Refugee Care Organization, BGET, "Hopes for Where There Is No Light"
Supports renewable energy and trains refugees across the border region
Translated from Korean to English by Sejin Yang (2009 BGET's Volunteer)
"The refugees along the Thai-Burma border have nothing. Electricity is hope for them."
Salinee Tavaranan, the director of a Thai refugee care organization, BGET (Border Green Energy Team), was full of her determination to continue the refugee care projects at the Kyobo Foundation of Education and Culture in Sinseol-dong, Dongdaemun-gu, Seoul on 22 April.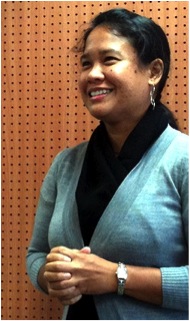 Salinee Tavaranan, Director of BGET
BGET is a non-profit organization co-founded by American renewable energy experts, Walt Ratterman and Chris Greacen in 2005.
BGET received the Kyobo Life Award for Environment for the international division. The organization has been bringing light to Burmese refugees and internally displaced Karen communities using renewable energy technologies such as solar and micro-hydro power.
BGET provides electricity to schools and medical clinics using solar and micro-hydro power systems.
BGET also installed hydraulic ram pumps to provide schools with drinking water. While the number of BGET staffs including its volunteers is only around 9, the organization has provided light to far more than 100,000 people.
Tavaranan said, "It allowed medical clinics to light night-time surgeries and use vaccine refrigerators. The people in the region are very happy to have light."
BGET does not hesitate to take life threatening risks as long as they can bring light to more people. The Myanmar border has been under tight security due to Karen people's war of independence against Myanmar for the past 64 years. In spite of all tensions, BGET would walk for 2 days to get to where there is a need for their help.
Tavaranan said, "Danger always lurks on the way as the Myanmar army laid landmines everywhere to stop the ethnic minority from returning to their homes and lands. However, I'm not particularly worried about it" and smiled. "We can die anywhere and anytime. I don't think working for this project suddenly increases the danger of death."
Walt Ratterman, one of BGET's co-founders, lost his life following the devastating earthquake in 2010 while working on solar projects for medical clinics in Haiti. Although in losing Walt BGET lost a leading figure in the organisation, it has not hindered them in pursuing their work. In 2009, BGET was awarded the international award of the World Energy Globe Awards and the Kyobo Life Award for Environment for the international division this year.
Tavaranan said, "Knowing how many people could get benefits from the projects, I can't stop working. I'll continue this work for the rest of my life."
She finally added, "Since the Myanmar's government and the Karen National Union recently signed a ceasefire agreement, further reconciliation has been emerging in the border region. Once security along the border is guaranteed, we will be able to bring electricity to even more people in remote mountain villages. We will deeply appreciate for your continued interest and support for our work to help benefit more people."
 http://www.edaily.co.kr/news/NewsRead.edy?SCD=DA42&newsid=01580966599498744&DCD=
This post was written by Ji-hyan Lee.