Hi! I am Liping, and I just joined BGET on the 1st October 2014. Orientation started for me at Grace Garden with the Sustainable Living Skills Training camp, which I am delighted to share with you over this blog.
Kara, Colin and I arrived at Grace Garden on 5th October afternoon after picking up the 8 students from Dragons and their 2 instructors Mark and another Kara. Where There Be Dragons is a gap year study abroad program, and Wide Horizons is a two-year program in Mae Sot focussing on community developemnt. The 24 Wide Horizons students were already on the compound with their instructors Kristian and Ruth, and actively clearing the grounds at the cane ball court. Kara then brought all of us on a tour of Grace Garden and the interesting experiments on sustainable methods. Orientation went really well with the American and Burmese-Thai students mingling well and easy through the fun and games.
Orientation in the Sustainable Living and Learning Centre.
Sustainable topics were comprehensively covered through the four days of lectures and practicals. It was a great excitement for me to finally do some hands-on work and see the much-discussed theories and concepts implement on ground.
Day 1: We learnt about agroforestry, swales and natural soil enhancement, taught by Kara Bennett and Colin Able. Each group of students had their chance to try their hands at four different stations for both the morning and afternoon practicals. Bio-char and compost were two soil enhancements we practiced making. It was good to see the materials go on their full cycle as the weeds from the experimental plots go back into the compost, while what had fed them were the compost and bio-char. The students liberated the food forests along the two swales, by clearing the overgrown weeds that were fighting for sunlight and nutrients with them. They also planted more banana trees, and captured effective microorganisms (EM) with bamboo and rice. Apart from seeing the actual swales on ground, we were also taught how to survey the land using vernacular tools and methods, so as to stake out the swale alignment for construction.
Using an A-frame to survey the land for swale construction. "I am going to try and incorporate swales back home on my farm. I believe this is a very good idea."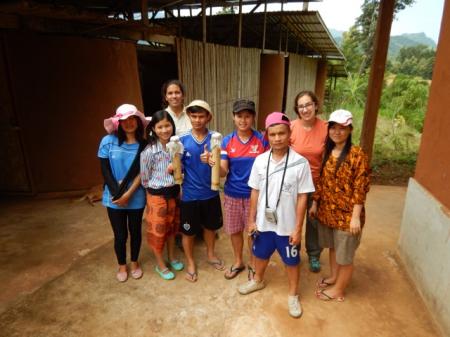 Students posing with the EM traps they made out of bamboo and rice. "My favourite topic was natural soil enhancement because natural soil is very important. If we use chemical fertiliser, it can be damage our land, also cannot use many years. For me, natural soil is best for our land."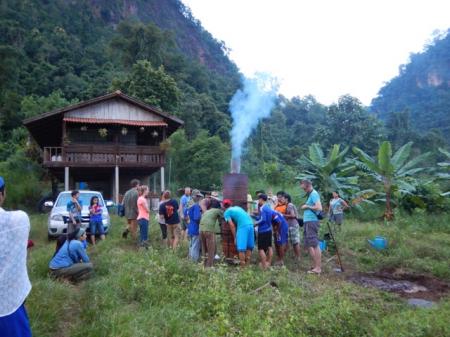 Firing the bio-char. "I'll definitely use EM and compost in my vegetable garden next year, and try to do bio-char at some point. I may also bring in my neighbourhood to utilize the composting pigpen! And I've already designed my future adobe tiny house that's powered by solar energy."
Day 2: We had a full day workshop on adobe, and it was really fun!
BGET Director, Salinee, shared her knowledge on adobe building construction, including her own house, and what better place to learn from than the adobe learning centre we had our lessons in! A mud pit was organically carved out under the strategic shade of a tree, where rice husks were mixed with water and mud under the dancing feet. Towards the end of the day, it was transformed into a mudslinging pit. Adobe bricks had been made in advance, and students transported them from under the bamboo hut to the tool shed site, where they practiced adobe bricklaying. At the same time, wood planks were salvaged to recycle them into the door jamb and shelves by the students.
As with anything to do with mud, a mud fight broke out!
What better way to end the day than to go for a cooling swim / shower in the Moei River!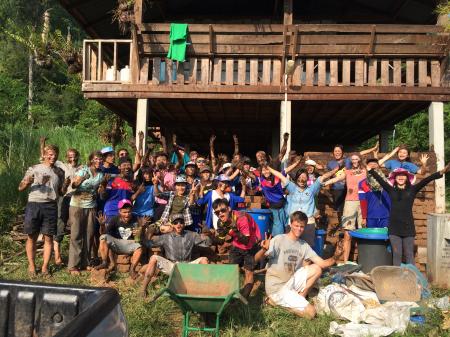 As shared by many students, adobe was a fun and useful topic for them. "Building adobe! Particularly actually building the wall and making the mixture. I loved putting the bricks together, and all of it really." 
"I will use for my life. I will build one adobe home and I will share with new generation in future on how to save environment."
Day 3: Guest speakers, Ko Lynn, Sai and Moe Thu, from Khomloy Development Foundation (KLDF) came and gave us a full day workshop on composting pig pens and chicken coops. These animals' living quarters are beautifully tied in with their food and their poo that conveniently become nutrients for the plants that shall feed them. Banana stalks which I never imagined to have any use other than holding up the bananas, are actually food too! Students chop them up into pieces to ferment them as pig feed, as well as further mincing them up as chicken feed. A feeding table was also provided on how much of each type of food to feed the animals  – a real piece of gem for newbies at raising animals!
Coinciding with the lunar eclipse, lanterns were set off at night, courtesy of KLDF who brought the beautiful lanterns to Grace Garden. It was a party out here, with funny noises echoing off the mountain ranges as villagers carried out the traditional beliefs of using loud noises to scare away the eclipse.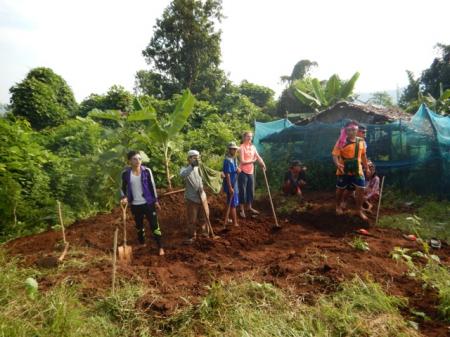 Preparing the site for the composting pig pen.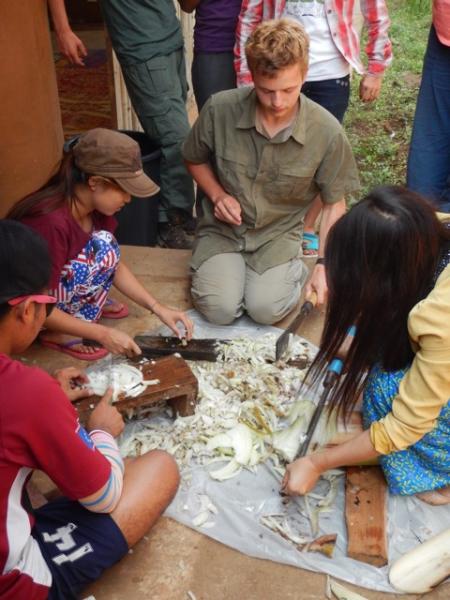 Cutting up banana stalks. "I think I can use some of the things that I have learnt like composting pig pen and chicken coop and adobe. If I go back to my village, I will do it by myself."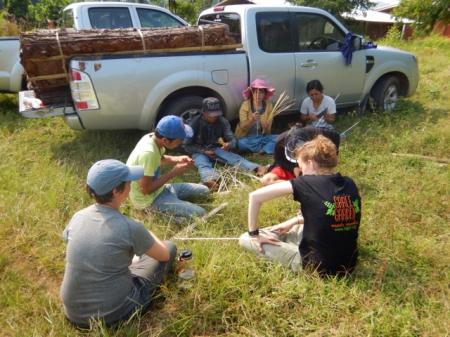 Splitting bamboo under the shade of a car. To one student, the "highlight of the training was splitting bamboo with machetes and axes."
Day 4: Renewable energy day included solar power taught by Say Heh from SunSawang and wind power by Colin.
A competition was held for the fastest handmade vertical and horizontal turbines to work a stone to the finishing line. With the variety of designs for these turbines, it was like a fashion show!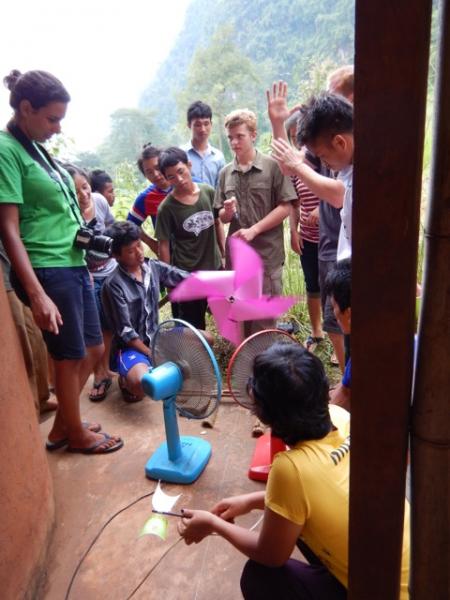 Wind turbine competition. 
The last day of class for this training camp concluded with a talent show. It was an evening of music, singing, laughter and hugs, as the entire crew of students and instructors participated in the myriad of performances.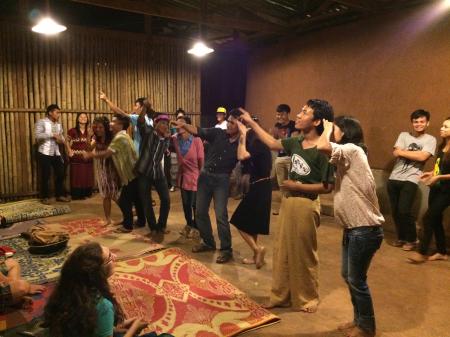 Mass singing and dancing.
Day 5: A hike up the pagoda, which sits on the top of the mountains which has been a beautiful backdrop to Grace Garden.
We set off after breakfast, taking the route which we always see the villagers come by with their huge baskets. It was a tough hike up, and I was amazed I managed to make it, despite stopping so frequently while two angelic students waited with me. The view was stunning, and we could see Noh Bo and the Moei River that weaves by it. Coming back down to Grace Garden was much easier, as the route was less steep.
We then shared our last lunch together, and closed the training camp with the awarding of certificates to the students.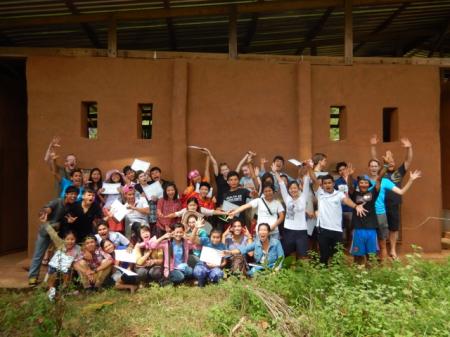 Graduation!
This post was written by Liping.